Web Design
Whether you need a design for a startup company or just want to freshen up the look of your current website, Mary can help. Since 1996 she has helped hundreds of clients create an engaging web design in the Memphis area and beyond.
In-person meetings are preferred, but handling everything over the phone and via email works too. Mary will personally work with all clients to ensure the latest and best techniques are used.
Since the majority of web searches are via mobile devices, companies have moved toward mobile website design or responsive design. What's the difference?
IS your website mobile-friendly?
Test it.
Does your website provide a good experience for site visitors using a mobile device?
Smartphones and tablets combined now account for 60 percent of all online traffic, up from 50 percent a year ago. How can you know if your website is mobile-friendly? Test it. View your website on a tablet or smartphone. Is it easy to read and navigate? If not, many mobile site visitors will click off of your site and go to a competitor's site. What are your choices? This problem can be resolved by creating a mobile design or responsive web design.
60 percent of all online traffic
comes from mobile devices
Mobile Website Design
This is a web design that is a totally different design from your main (desktop) website, is smaller, easier to navigate, and usually has an 'm' in front of the domain, such as 'm.memphis-seo.com'. This exclusive design has limited information (less content) on each page as it is designed for smartphones and tablets.
When a smartphone or tablet user clicks on your website, it will auto-detect the device used and show the mobile version of your website on that device.
Pros: It's quicker and less expensive to build a mobile website for most businesses.
Since your mobile website is new, you don't have to work with any code from your main website. A big benefit is you can start a fresh design using modern techniques.
Con: This is a short-term solution.
For SEO purposes, it's best for Google, etc. to recognize only one URL for your business. In this case, you'd have the 'www.' version and the 'm.www.' version.

When you make website updates, the updates need to be made in 2 places: on your desktop website version, and on your mobile site.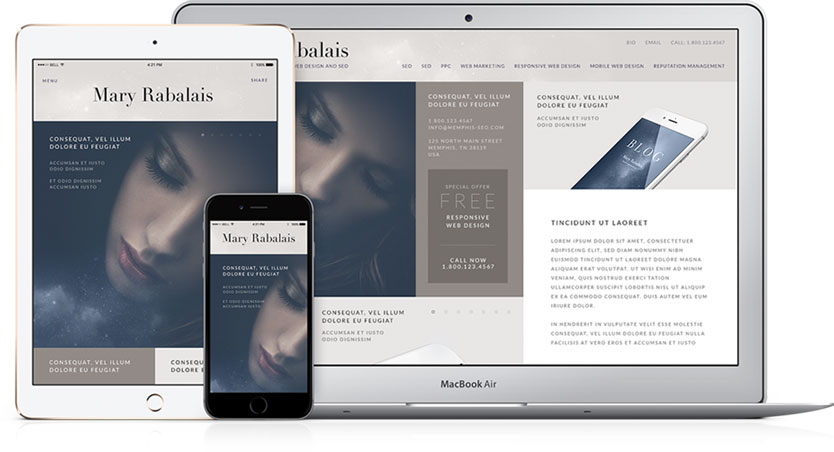 Responsive Website Design
Responsive web designs are designed for use on desktops, smartphones, and tablets. The 'device' self-adjusts each web page to fit the screen of your visitors browsing device with minimal scrolling. This is currently the recommended option for new or updated web designs.
Responsive web design is the alternative to creating an entirely separate version of your website that is exclusively for use by smartphone visitors. Web pages are resized based on your device dimensions.
Pros:
Perfect for SEO as all of your web pages live on one domain (the 'www' version). This option is recommended by Google as the links maintain the same search equity. One set of URL's is preferred by Google;

Your branding remains consistent on all devices (color scheme, content, calls-to-action);
Con: More expensive than a simple mobile design.